Caitlyn is 40 months
This was our first "official" week of Tot School. I wish I had looked for and found this wonderful resource earlier. We have actually been doing a lot of these activities all along as a part of our natural day. I guess I was "unschooling" without even realizing it.
I spent much of this week planning our upcoming venture into preschool, but I also began paying more attention to our daily activities and trying to make them even more educational (enter Tot School).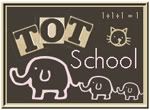 Here are some of the activities I documented:
I introduced a dry erase board this week as a reusable resource, because Caitlyn loves to write and draw only a little on a sheet of paper and be done. She loved it, and immediately started writing letters that she knows. She also drew shapes and pictures, and happily erased them to draw something else. I was so glad she took to this!
This necklace made my week in so many ways. My mom "Mimi" got these lacing beads for Caitlyn back at Christmas, and she has used the sporadically since then. Tuesday night as I was reorganizing our craft cabinet Caitlyn spotted them and asked to play with them. I figured it would occupy her for a few minutes and it's a great fine motor skill. She gained so much more though, Caitlyn sat independently and continued to string beads for over an hour until the necklace was complete. So we also worked on staying on task and independent play, but by far the best was yet to come. She brought me the necklace when she was finished and asked if I would tie it to keep (we normally just reuse them). I obliged because she had worked so hard, and I thought she would enjoy showing off her work. When I handed it back to her ready to wear, she looked up at me with bright eyes, and informed me that she had made it for me. I have her make things for people all the time, but for her to come to this decision on her own meant the world to me!
The magnetic numbers were new to us this week. We identified numbers and colors, and started working on basic math whenever they caught Cricket's attention.
Caitlyn and I went to the library for the 1st time this week, and I think this will become a part of our weekly routine. She LOVED looking at all the books, and has wanted to read these special books all week. I set up a book bin and explained it when we got home. She understood, and explained it to daddy when he got home (good story telling).
We used Cricket's princess hopscotch blocks in a variety of ways this week: she played hopscotch; practiced her more difficult beam skills on the wider surface; named and ordered the numbers; identified colors; and talked about characteristics like hair color and eye color.
We also did a scratch art project that she really enjoyed. She made more meaningful marks this time by giving the animals faces. We also identified and talked a little about the animals: penguin, lion, and elephant.
This week we also continued our Hooked on Phonics Upper Case Workbook and the Color and Shapes Workbook. We covered the letters T & U, rhyming, pentagons, and Hexagons. Cricket also continued to enjoy her Gym & Swim classes at our local Y (gross motor skills).