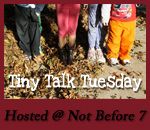 Cricket had a lot to say this week, here is what I remembered:
Cricket likes to instruct me on on how to point my toes (for gymnastics) and after I do it she says "I like it, PERKEPT (perfect)"
We were leaving gymnastics and the little boy ahead of us was wearing a plastic fireman's hat. He held the door open for Cricket and as we walked away, Cricket looked up at me with big bright eyes and said "Mommy the fireman held the door open for me!"
Cricket's hair bow came out at gymnastics and her coach nicely put it back in her hair. As Cricket was walking over to me she reached up and inspected the bow with her hand. Then she looked at me with a pout, and I asked her what was wrong. She said, "She didn't tie a pretty bow."
Cricket was telling her daddy about painting pumpkins with me. After telling him how I did 1, she did 3, and we did one together she said "That's what mommy always does." I asked her what she meant since we have never painted pumpkins before, and she said "I don't know but that's what you do."
While at Mimi's house Cricket petted the next door neighbor's cat. The cat fell over in the street, purring, and rolling around. Cricket looked up at my mom, and said "Mimi that cat is SILLY".