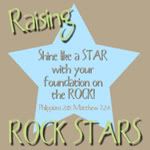 The memory verse for this week was:
We love him because he first loved us. 1 John 4:19
Ok, we were so basic this week I didn't even get any pictures. Cricket did really well with the W work though. She struggled for some reason with the word we, but she liked the zoo based mini book nine the less (part of the power point).
Sorry, I don't have more to offer this week. Can you tell we are ready for a school break?
Be sure to see what other families are doing with their Rock Stars at 1+1+1=1.