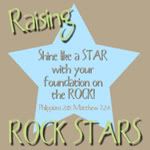 Cricket had another great week using the resources from 1+1+1=1. I will see again that we really love these resources both the free printables and the member's only power point presentation really enhanced our learning this week.
For God so loved the world that He gave His only begotten Son, that whoever believes in Him should not perish but have everlasting life. John 3:16
This verse was way too long for Cricket to memorize, but we read it each morning and reviewed what it meant.
Cricket loved the Ff power point and by the end of the week she was able to read the for "minibook" that was within it.
She loved the craft for this week. I precut the heart and hole punched it. She then laced it and cut out the cross pieces. Then, I let her use "real" glue instead of stick glue to glue it all down.
In addition, we have been using the Lord's Prayer as a part of our daily routine and this week when we were saying our weekly prayer Cricket was randomly throwing in lines from it. I'm sure this will improve, but I'm just glad some of it is sticking with her.
We are also really enjoying the Seeds of Family worship cds that we won.
Be sure to see what other families are doing with their Rock Stars at 1+1+1=1